Simple Sense
Experience Ellen's message through her published works. We are our choices. We get to choose.
Spirited Leadership, 4th edition
It's all about TRUST™!
Spirited Leadership gives you 52 Ways to Build Trust and use the inevitable obstacles in life as breakthroughs -- not breakdowns. Uplifting and energizing, this personal leadership workout and guide provides you with practical, insightful applications and solutions to achieving more success with less stress.
Order Now
Ellen Castro Website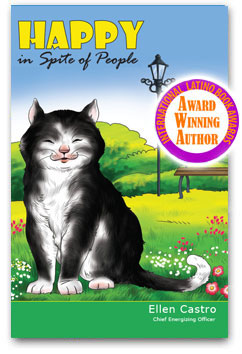 Happy in Spite of People
Proud to receive the 2016 International Latino Book Award in the category of Best Self-Help Book.
A parable that teaches a pragmatic way of dealing with people at work and in life.
Happy in Spite of People is the crucial missing "peace" that nourishes your mind, heart and spirit. This uplifting, liberating and relevant parable provides an innovative and pragmatic approach to dealing with people at work and in life where 12 complex human personas and personalities are represented as cats.
Order Now
Ellen Castro Website